New Director named at BHM Regional Library
Hannah Easley, a graduate of UNC at Chapel Hill, was hired as Director of BHM Regional Library by the BHM Regional Library Board on Thursday, January 22, 2015. Hannah is excited about taking the helm and is formulating plans for Staff Development Day and the new FY budget preparation. Hannah lives in Washington, NC and has a passion for programming and digital literacy.
BHM Regional Library system is now part of the NC Cardinal consortium. We all share resources, books and the catalog. Ask at the service desk for more information.
BHM Regional Library and other libraries in the state have joined together with NC LIVE in a project called Homegrown eBooks. At least ten NC publishers are part of this launch project. Many eBooks written by NC authors are available. The books will have MARC records and be part of our catalog. For best results, users will need the latest version of Google Chrome or Safari. Chrome and Safari are available as free downloads. Users of other browsers are able to access the collection but may experience technical issues.

Access via the BiblioBoard Library App
The BiblioBoard Library app is available for iPad®, Kindle Fire HD®, Nexus tablets® and Galaxy Tab® (4.0+) mobile devices.
Step 1: Visit the BiblioBoard website using the NC LIVE link above.
Step 2: Click on the yellow "tablet" link in the upper-right corner.
Step 3: Create your own user account.
Step 4: Download the appropriate app and login using the account information created in step 3.


BHM Regional Library won a $4644 EZ Online Edge Participant grant for an AWE early literacy computer, a router, four scanners, and 13 e-readers. Susan Benning wrote the grant.
Much appreciation is extended to three groups in Williamston for their generosity. The Woman's Club gave $500 , the Partnership for Children gave $1066, and Rotary Club also gave $1066 to be used to purchase an AWE computer for children to develop early computer literacy. Many thanks to Ann Phelps for collaborating on this project.
BHM Regional Library was awarded a $5,000 Redbox and OCLC "Outside the Box" grant. The grant includes an outdoor movie screen and peripherals including two huge canopy tents to show movies or hold other outside events. Other equipment includes DLP theatre projector, umbrellas, and outdoor furniture. Many thanks to Debra Torrence for her work assembling and writing the grant letter. In 2013 five libraries were chosen for this grant during the pilot year. In 2014 twenty libraries were selected for this award. There was many family fun events like a paper airplane contest, bubble blowing, jump rope contest, a costume contest with a red carpet walk, story time and an outdoor movie, "The Pirate Fairy." More events are planned for 2015.
The Williamston High School Class of 1953 alumni have generously donated $2000 to be used to buy books for the Martin Memorial Library.
Martin Memorial Library has been approved for a $1000 grant from the North Carolina Humanities Council to fund a "Let's Talk About It" adult book discussion series in the fall. The theme is "The Many Voices of Latino Literature." The council will schedule five local scholars to lead the discussions of the five books. The first program is scheduled for Thursday evening, September 18. Please call the library at 252-792-7476 for additional information.
Denise Toler, staff member at Hazel W. Guilford Memorial Library in Aurora, applied for and was awarded a $1200 scholarship to attend the 2014 Association of Rural and Small Libraries Convention in the state of Washington. This grant is made possible by the Federal Institute of Museum and Library Services (IMLS) under the provisions of the Library Services and Technology Act (LSTA) administered by the State Library of North Carolina, a division of the Department of Cultural Resources.
BHM Regional Library was contacted by Raye Oldham of the State Library that BHM has been awarded a $50,000 LSTA grant with a 10% local match. The grant was written by Susan Benning, the Director. This grant award will be used to create three mini computer labs in the BHM Regional Library system. The mini computer labs are mobile but are based in Aurora, Williamston and Belhaven. The flexibility allows the laptops to be moved to other locations or consolidated for bigger classes. This grant is made possible by the Federal Institute of Museum and Library Services (IMLS) under the provisions of the Library Services and Technology Act (LSTA) administered by the State Library of North Carolina, a division of the Department of Cultural Resources. Special thanks to Joyce Chapman. Thank you to Martin Community College and Beaufort Community College for partnering with BHM Regional Library on this grant. Free classes will be provided on using a computer, doing a resume, completing online job applications, doing a cover letter, and search for a job online.The colleges will provide instructors to teach five classes on topic specific classes like Excel, Powerpoint, Desktop publishing,etc.
Heather Harden wrote and was awarded a $3,000 Dollar General Grant for the Summer Reading Program at the Martin Memorial Library in Williamston, N.C.
Monsanto Corporation has donated $2,500 to the Hazel W. Guilford Memorial Library in Aurora, NC for library materials and for programming equipment.
BB&T awarded Martin Memorial Library $1200 which will be used for guest performers/programs and t-shirts for the 2014 Summer Reading Program. Additionally, they pledged employee manpower to assist with preparations and programs as part of their Lighthouse initiative. The theme of this year's SRP programming is Fizz, Boom Read!
BHM Regional Library was awarded a LSTA grant to migrate to the NC Cardinal automation system in 2014. This project was completed when Mattamuskeet joint school/public library migrated in June 2014.
This slide show represents some pictures of the BHM Regional Library branches, the Weyerhaeuser job resource displays, children's story times, and craft programs. If you see staff taking pictures, smile and say "cheese." There is a picture of me accepting a check for $10,000 from Southern Bank Foundation for the new Bath Library. Thanks for watching. Susan Benning, Director
Click on the link below.

Then click on a book to open it.

If your device has sound you can also hear the book by clicking on Narration.

Narration is available in several languages besides English.


Tip: You must click the play button and the sound symbol for each page.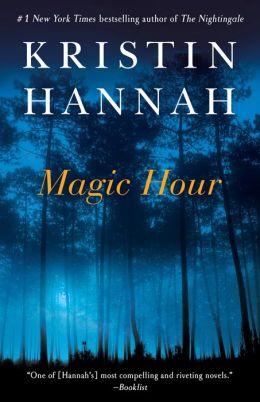 Magic Hour by Kristin Hannah
When a little wild girl emerges from the woods and quickly climbs a tree in Sealth Park, Washington. Chief of Police, Ellen Barton, was immediately notified. Knowing that a child psychiatrist was needed, Ellen called her sister Julia Cates for help. Although she is living a troubled life, and knows this case could end her career Julia decides to risk it all to find the answers about this abused child they called Alice.
Review by Jean Bennett
Have a question? Ask NCknows 24/7 except midnight Saturdays to 8:00 am Sundays.
SMART PHONE WEBSITE ACCESS
For quicky easy access, snap a photo of this Q R Code with your Smart Phone and your app will open to our library webpage in mobile format. Other Q R codes will direct you special program information or Branch homepages.
Headquarters and Bath Community Library iare accepting book donations of books published after 2012. We can provide a receipt for income tax purposes. We cannot use and do not accept sets of encyclopedias or text books.